Stock Images
A Good Idea For PPC Marketing?
In the world of PPC marketing and content creation, it can be challenging to get your ads noticed. It's especially true when advertising on social media. Users scroll and scan, not read their feeds; so, a well-written ad copy is not enough for them to notice and get interested in your offer. Since they are 65% more likely to remember visual information, it's time to pay more attention to images you use for ads campaigns.
Content creation alone is time-consuming. You may spend an entire afternoon taking photos and still not get anything of your liking. Waste of time? Maybe. Discouraging? Probably. Irremediable? Absolutely not. That is where stock images come into play.
Now, the use of stock images in the creative community is quite controversial. First, they are quite generic so maybe not the best tool for a strong branding. Second, the quality. If they are high-quality, you need to pay for them. If they are free, are they truly high quality? Let's dive deeper into the best practices for creating your PPC ads.
Why and when should you use stock photos?
When considering whether to use stock images for your business, ask yourself if you really need to? You can get images for free but to ensure they are high quality; you will have to pay for them and most likely invest in a monthly membership. They are also photos over which you have no control. Thus, if you have a specific idea in mind, you may not be able to find what you are looking for.
On the other hand, creators may think of it as a temporary solution. Stock images have the advantage to give you more time to dedicate to other projects and relieve of the stress of having to continuously create new content. So why should you use stock photos? Because you do not have time nor the capabilities to do otherwise.
Ads communicates and presents a brand to the public. Visuals you use in PPC marketing on social media give people a reason to stop scrolling, click, learn more, and eventually buy from you. No matter how fantastic your product or offer is, no one will care if its ad is visually unappealing and dull.
When should you use stock photos?
The answer completely depends on you, your business, and your content creation capabilities of course. Stock images may be a great way to start if you do not have yet a photographer or a marketer working for your business. With thousands of stock photos available, chances are you will find something that will fit your business.
If you still need to use a stock photo, do your best to find one that looks as authentic and relatable as possible. Services like Unsplash or Shopify's Burst are excellent for a start. Also, consider making that stock picture "yours." Try to make them authentic and natural: zoom in or crop if applicable, customize its colors, adjust filters, etc.
At the end of the day, use your best judgment. Stock images will not be suitable for every page, every blog post, every topic, every piece of content. There will come a time when you will need to create your own original content because stock images will not do anymore.
Takeaway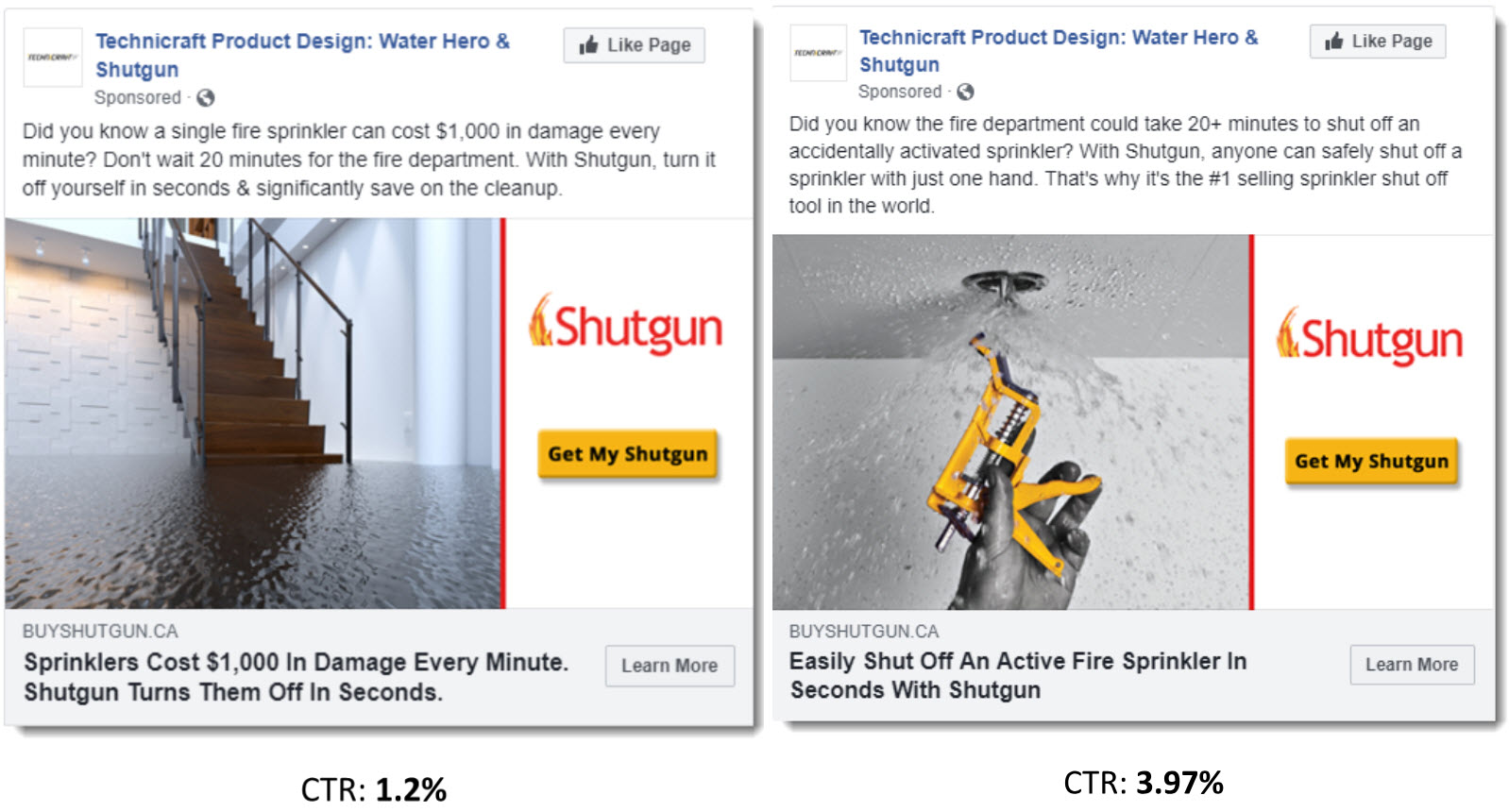 Take these two ads from the same company for reference. Both are striking examples of how stock photos can either kill authenticity or build user trust. The issue is not with those photos themselves, but the way advertisers and designers implement them in their works.
Most consider them an easy and relatively cheap way to communicate a message and save time on content creation. Stock photos are so overused by marketers and advertisers that users can recognize them from a mile away. With so many unique and professional visual works available today, people don't want to see pictures that look artificial and don't tell a story. Plus, it's a sign for them that a brand doesn't care about the content it shares with the audience.
If that's the case, what should you use in social media or PPC marketing instead?
Your product images
Behind-the-scene images
Pictures of employees or owners behind your brand
Seasonal photos with a product or a team, with a festive border
Hire a photographer for a quick and easy photo session
AHA! has taken Pay-Per-Click and created a comprehensive solution for our clients. We specialize in building brands. There is no single solution for a client. With our team of experts we will evaluate your business, your website, your customers, and add to that our experience with others in your industry.